Social Media Accounts
Search Engines Are Placing More and More Importance on Customer Engagement within Their Search Algorithms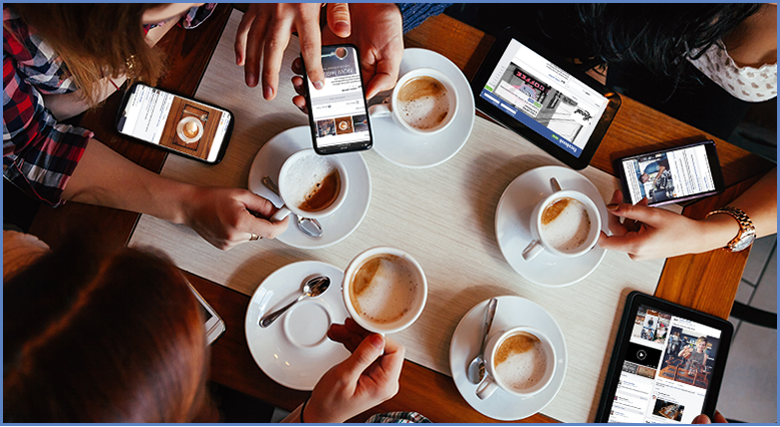 Search engines are putting increased importance on social media customer engagement into their search results.
Every "like","share","pin" and "check-in" can significantly boost your search engine presence. As a restaurant owner or manager, you may think that leaving your social media account management to an employee "because they are on Facebook all of the time" is a good idea. With the increased value of your social media channels, it is best to have a strategic plan to socially engage your customers and attract new ones. Social media marketing and search engine optimization are now entwined. To succeed in either of these aspects, you must have a presence and an outlet to engage your customers. Welcome to the world of social search.
Providing Proven Social Media Marketing Strategies
Restaurant Hospitality Marketing specializes in building marketing solutions for the restaurant and hospitality industry. We know how your customers are using social media and we know how to engage them. We offer proven marketing strategies to help increase your social media footprint while engaging your customers and creating loyal, raving fans.
The most popular and highlighted social media sites on the market today are Facebook, Twitter, Google+, YouTube and Foursquare. Content produced on these sites is easily shareable, viral and spurs word of mouth marketing opportunities. You may not recognize the importance of social media, but your customers do. For example:
Facebook has over 1 billion active users
Twitter has over 500 million users
Foursquare has over 30 million users worldwide
Trip Advisor has over 75 million monthly users
Every 60 seconds, 293,000 Facebook users update their status. Of the 30 million users on Foursquare, 42% of those use their Foursquare app actively. These social media platforms are golden opportunities for you to connect with your customers while they are in your establishment and after they have visited you.